| | |
| --- | --- |
| | Projects |
Private Lands Riparian Habitat Restoration Initiative
Riparian habitats along the Gulf Coast of Texas represent a very important resource in terms of water quality. They are also valuable habitat for terrestrial wildlife and especially migratory songbirds. A properly functioning riparian area can serve as a
filter to remove sediment and contaminants from runoff before it enters the fragile estuarine habitats found in the Coastal Bend of Texas.Because riparian habitats represent such a valuable natural resource, the De-Go-La Resource Conservation and Development Council applied for and received grants from the Coastal Bend Bays and Estuaries Program (CBBEP) and the Texas General Land Office for $46,000.00 each. These grants were awarded and were to be used specifically in contracting with private landowners for the development and implementation of riparian habitat restoration plans.The basic concept involved in these plans is to restore functionality of riparian areas and encourage private landowners to continue to properly manage them. These links will take you to the final report for each grant De-Go-La used to carry out the initiative.
Coastal Bend Bays and Estuaries
1970 thru 1980- Roadside erosion control was carried out during the 70's and 80's under the RC&D Critical Area Treatment (CAT) Program. USDA provided cost share funds that encouraged private landowners and counties to shape and vegetate eroded roadsides and other areas where concentrated runoff created gullies.
1976- Maxwell Ditch in Calhoun County was selected for area critical treatment and involved major shaping of a large drainage channel. USDA provided funding and supervised construction under a formal contract. The project was completed and was then turned over to the county for maintenance and operation. Annual inspections were carried out over a 25 year period.
1976- An early project was located at Riverside Park, Victoria County. This project provided the construction of several grade stabilization structures to control erosion. In addition, barriers to vehicle traffic were installed and new playground equipment was installed.
1990- Residents of Bayside, Refugio County, prepare to install a wave barrier in Copano Bay as part of a shoreline erosion project. The wave barrier is placed in front of the area to be planted in order to protect young plants during establishment. Many types of materials have been used but best results were obtained using surplus military cargo parachutes. The volunteers planted smooth cord grass to slow the erosion process. In many instances areas that were eroding began to build up silt and became productive wetland areas. Shoreline erosion control not only beautifies the area, it improves water quality of habitat in bays and estuaries.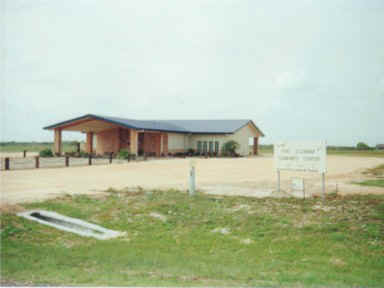 1993- The Port O'Connor Community Center Association began applying for grants from private foundations to help build a multi-purpose center. With the help of De-Go-La they were able to obtain enough funds to complete the $300,000 project in less than two years with absolutely no debt.
1994- Past recipients of the matching grant program offered by De-Go-La are Friends of Wood-Hi, Victoria County, the Friends of Wood-Hi built a community center with the funds and Refugio County Commissioners Court, Refugio County, built a drop off recycling center.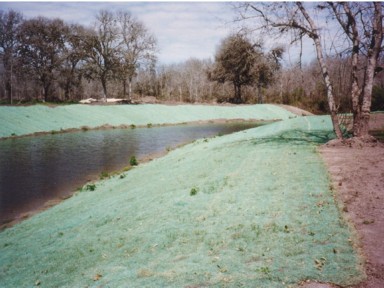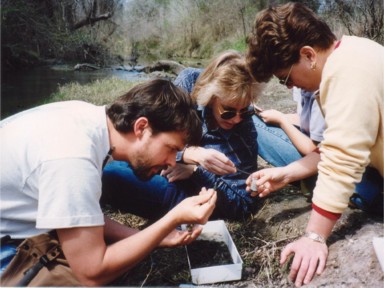 2000- Erosion Control on the creek bank in Lions-Shelley Park in Refugio County. This project was completed to make the area more attractive and useable by park visitors. Lions-Shelley Park was the site utilized by area teachers for a continuing education workshop. Personnel from Texas A&M Corpus Christi and USDA-NRCS participated in hosting the workshop. A component of the project was to also sponsor an environmental workshop for teachers.

2001- Alternative litter disposal study. De-Go-La cooperated with NRCS, the Lavaca SWCD, Yoakum Experiment Station, Texas State Soil and Water Conservation Board and EPA to evaluate methods of properly applying poultry litter on pasture land. This was a three year study and was completed in 2001. Another study conducted during 2001 was that of composting poultry mortalities. This project involved the construction of six demonstration, Delmarva style compost facilities for on-farm disposal of poultry mortalities. USDA-NRCS, Gonzales County SWCD, Texas State Soil and Water Conservation Board and TNRCC cooperated in the three year demonstration. As a result on farm composting of poultries has gained acceptance in Gonzales County.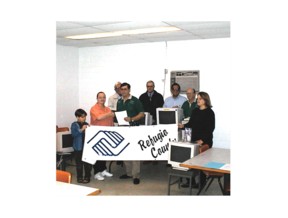 2002- Refugio County Boys and Girls Club received surplus computers obtained by De-Go-La for use in after school programs. Over the years De-Go-La has been able to help many non-profits, schools and units of government obtain good usable equipment at no cost. This equipment is on permanent loan and must be maintained by the recipient.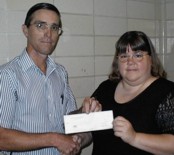 Additionally, De-Go-La started a Matching Grant Program for area communities and organizations. Recipients received up to $500 dollars from De-Go-La to match their funds on a minimum 1:1 basis. 11 grants were awarded during the first year of the program. Projects funded include environmental enhancement, fire safety, workforce training, and education.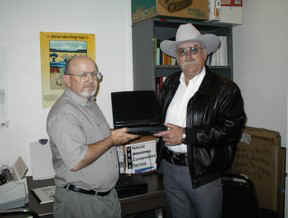 2003-De-Go-La obtains surplus federal property and makes it available for local government and organizations on long-term loan. Of the many surplus property loans, is a new project to furnish the Gonzales County jail with furniture as well as two lap-top computers for the Gonzales County Sheriffs Department.
2004- This year De-Go-La was able to assist 10 organizations via the matching grant program. The following groups received funding: Crossroads Chapter of the American Red Cross, Goliad VFD, Moulton VFD, Lavaca County Copano Bay SWCD, Thomaston VFD, Nordheim VFD Westhoff VFD, Yorktown VFD and Ander-Wesser VFD.
The City of Gregory and DeWitt County both received funding through the SEP Project.
Three Rivers EDC, Amour Adult Day & Health Care, Muldoon VFD and the Olivia VFD all received furniture or computers via the surplus property program.
De-Go-La also helped sponsor the Sinton Community Resource Team, a grant writing workshop and the Center for Economic Development.
This year De-Go-La hosted the State Association of RC&D's national meeting which was held in Corpus Christi.
2005 - The following projects implemented and completed in 2005 are as follows: Boys & Girls Club of Beeville, Helping Hands of Jackson County, Pride of Taft, Moulton Fire Dept., Vysehrad I.S.D., Ag in the Classroom, Small Business Workshop, Basics Grants Workshops, Advanced grants Workshops, Community Leaders Forum, Affectionate Arms Adult Daycare, Velocity Skate Park, Billy T. Cattan Recovery Outreach, City of Gregory HHW, Revolving Loan Fund and Private Lands Riparian Habitat Initiative.
Matching grant program recipients for 2005 are: Jackson County; Helping Hands of Jackson County, Calhoun County; Calhoun Soil and Water Conservation District, Refugio County; Copano Bay Soil and Water Conservation District, Bee County; Boys and Girls Club of Beeville, San Patricio County; Pride of Taft and City of Taft; and Lavaca County; Moulton Fire Department and Vysehrad Independent School District.
2006 - The following projects implemented and completed in 2006 are as follows: Copano Bay SWCD - Earth Science Field Day, Moulton Fire Dept. Equipment, Ag in the Classroom 2006, Small Business Workshops, Martin Luther King Jr. Children's Park, Cuero VFD, Basic Grants Workshops, Advanced Grants Workshops, Revolving Loan Fund, DeWitt SEP DEG008, DeWitt SEP DEG014, Farm & Ranch Management Electronic Resources, Karnes SEP DEG009, Mid Coast Chapter SWCS Nutrient Mgt., Nueces SEP DEG011, Nueces SEP DEG015, Nursery VFD, Pawnee Volunteer Emergency Services, San Patricio SEP DEG004, San Patricio SEP DEG012, Blanconia VFD, Goliad VFD Equipment, Gone Country 4H Livestock Equipment, Pawnee 4H Livestock Equipment, Pettuss - Tuleta VFD Communications Equipment, Skidmore VFD, Victoria College EMS Training, Bee Live Oak Lavaca SEP DEG007 and San Patricio SEP DEG003.
Matching grant program recipients for 2006 are: Bee County; Skidmore VFD, Pawnee Volunteer Emergency Service Dept., Blanconia VFD, Gone Country 4-H Club, Pettus-Tuleta VFD, Pawnee 4-H Club - Calhoun County; Calhoun SWCD#345 - Goliad County; Goliad VFD - Karnes County; Mid Gulf Chpt. TX. Section, Soil & Water Conservation Society - Lavaca County; Moulton Fire Dept. - Refugio County; Copano Bay SWCD - Victoria County; Nursery VFD
2007 - The following projects implemented and completed in 2007 are as follows: Revolving Loan Fund, DeWitt SEP DEG002, Farm & Ranch Management Electronic Resources, Small Business Workshops, Basic Grantsmanship, Meek Prairie Restoration, Bateman Prairie Restoration, Matson Prairie Restoration, Edwards Prairie Restoration, Rother Prairie Restoration, Refugio - Goliad Prairie Conservation Plan, Calhoun SWCD Ag in the Classroom 2007, Refugio VFD Fire School, Muldoon VFD Education Center, Goliad VFD Equipment, Olivia - Port Alto Community Center, Falls City VFD Wildland Equipment, Flatonia VFD Communications Equipment, Jackson County 4H Educational Gardens, Ander - Weser VFD Communications Equipment, Moulton VFD Rescue Apparatus, Karnes City VFD Equipment and San Patricio County Adult Literacy Council.
Matching grant program recipients for 2007 are: Calhoun County; Calhoun SWCD#345, Olivia - Port Alto Community Association - Fayette County; Flatonia VFD, Muldoon VFD - Goliad County; Goliad VFD, Ander/Weser VFD - Jackson County; Jackson County 4-H - Karnes County; Falls City VFD, Karnes City VFD - Lavaca County; Moulton Fire Dept. - Refugio County; Refugio VFD - San Patricio County; San Patricio County Adult Literacy Council, San Patricio SWCD
2008 -
Matching grant program recipients for 2008 are: Bee County; Beeville VFD - Dewitt County; Helping Hands & Hearts for Yoakum - Fayette County; Ellinger VFD - Lavaca County; Hallettsville VFD, Sacred Heart Catholic School - Refugio County; Copano Bay SWCD #329